Course details
Four sorts of superb soup for all eight items "Yin and Yang balance pot" 3800 yen Girls' Association, welcome party ◎ 【cuisine only】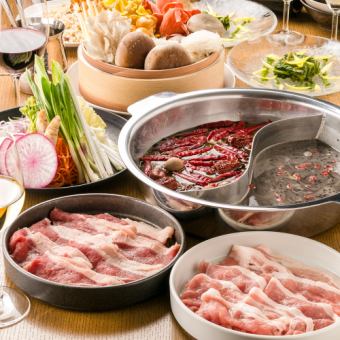 Reservation deadline

Until 23 o'clock the day before the store visit date
Available days for reservation

Monday - Sunday - Public holidays - Holidays
◇ Make beautiful out of the body ◇ Yang »Detox divergent pan or cold noticeable pot« Yin »Rejuvenation Beauty pot or Miyukono Nabe It is time for a pot to taste good.___ ___ 0 ___ ___ 0 ___ ___ 0 ___ ___ ___ 0 ___ ___ 0 ___ ___ ___ 0
Course menu
【1】 24 Approaches of fortune
【2】 kampo's medicine soup
"Detox divergent pan"
"Cold ignorance pot"
"Rejuvenating Beauty Pot"
"Skin Care Pot"
You can choose 2 kinds from the above 4 types of soup.
【3】 8 kinds Organic vegetables Assortment & Tofu 365
【4】 Assorted 8 kinds of mushrooms
【5】 Shonan · Fujisawa Miya pig
【6】 Japanese Wagyu beef * Production area is subject to change due to purchase of the day.
【7】 One item of deed
Turmeric or noodles
You can choose either one.
【8】 24 dedicated dessert
** Additional menu is available with a la carte.
2018/12/04 update